Unstoppable
The PC Show celebrates 26 years of the best in IT and consumer electronics
Singapore Expo, Halls 5 & 6
2 – 5 June 2016, 12pm – 9pm daily
20 May 2016, Singapore – Wireless, slim and only 16-inch long, this design-in-Singapore karaoke soundbar packs a walloping 120 watts of power– and could very well bring out the inner diva in you. Moment by Singapore-based company AC Ryan is easy on the ears as it replicates the characteristic elements such as reverb to smooth over uneven voice tones, while also being light on the wallet atone third the price of a conventional karaoke system.
Taking home audio and home theatre systems several notches up is Creative Labs' X-Fi Sonic Carrier, a brand new concept in advanced audio and video delivery for the high-end home entertainment market. Bringing together all the advanced technologies and convenience, Creative's ground-breaking technology powerhouse hosts, bridges and enhances a multitude of state-of-the-art entertainment platforms, all in a single, super sleek aluminum body.
Whether you are an IT geek, bargain hunter or casual browser, The PC Show, Singapore's longest-running international showcase of its kind brings together these and other hot IT gadgets and consumer electronics as the show returns for its 26th  consecutive run.
Familiar names like Best Denki, Canon, Courts, Creative, Dell, Epson, Harvey Norman, HP, Lenovo, M1, Newstead, Samsung, Seagate, Singtel and Toshiba are back to woo the crowd  with exciting new products, unbeatable deals and some of the best prices in town.
Gillian Loh, Project Manager of show organiser, Lines Exposition and Management Services, said: "We know that those who can,  will  wait for The PC Show to land a good bargain while some make it a point to attend so that they can keep up with the latest in IT gadgets and consumer electronics."
"Every year we try to give visitors to The PC Show an even better experience than they had before so that they will be happy and come back for the next show. For our 26th year, we are ramping up the excitement level with dedicated zones for those with special interests, on-the- ground coverage with postings online to keep customers informed of deals, hot new products and technology. We are thankful that our exhibitors share our thinking and going all out with attractive pricing, bundling and giveaways."
Komoco Motors, one of Singapore's leading motor companies, is sponsoring this year's grand lucky draw prize of a Hyundai Elantra Elite car worth $61,000 (without COE).Visitors to The PC Show are entitled to a lucky draw for every $100 spent at the show.
Special zones have been carved out within the two connecting exhibition halls to help visitors to zoom in on their areas of interests. These are:
GG Gaming Zone: Non-stop action for gamers with a wide range of fun activities and prizes to be  won,  including  the  chance  to  face-off  with  pro-gamer  ―Xian‖  in  the  Street  Fighter Challenge V on 3 June, from 6pm to 8pm. The 400 sq m Gaming Zone is a first for The PC Show and is managed by
MoveFuture Personal Electric Mobility Devices: Also a first for The PC Show, the zone features the latest in personal mobility such as electric scooters, electric bikes and hoverboard.
Know your Tech: Exhibitors like Dell, HP, Lenovo and Samsung will be showcasing their latest technology and products to educate visitors on what's hot and new. A strictly no-sales zone.
This year, The PC Show takes on a more interactive approach. Tech360.tv, Singapore's first online tech TV channel dedicated to covering today's digital lifestyle, will be officially launched at The PC Show. Viewers can expect bite-size & info-taining tech updates from The PC Show and there will be exciting prizes to be won at the event.
***
About The PC Show
The PC Show 2016 is Singapore's longest running showcase of information technology (IT) and consumer electronics. Visitors to The PC Show 2016 will be able to enjoy some of the best bargains and deals on IT and consumer electronics in Singapore. The Show attracts thousands of visitors every year and generates millions of dollars in sales. Admission is free.
The Show will play host to leading brands such as AC Ryan, Acer, AfterShock PC, Airwheel, ASUS, Best Denki, Brother, Canon, Challenger, Courts, Creative, Cybermind, Dell, D-Link, Epson, Fujifilm, Fuji Xerox, Gain City, GameProSG, Harvey Norman, HP, iPassion, John Ackerman, Lenovo, LG, M1, Microsoft, Mobot, MyRepublic, Newstead, nübox, Olympus, Philips, Prolink, Samsung, Seagate, Singtel, Toshiba, ViewQwest and Western Digital.
The PC Show 2016 encompasses four shows: The PC Show 2016, Digital Imaging 2016, GAME2016 and Consumer Electronics 2016.
Media contacts
Grayling Asia Pte Ltd
Ms Melanie Ng                           Ms Shakespeare Sim                            Ms Nabila Adnan Tel:
+65 66717 7814                          +65 6671 7620                                       +65 6671 7613
melanie.ng@grayling.com       shakespeare.sim@grayling.com        nabila.adnan@grayling.com

APPENDIX
The PC Show 2016: Show highlights
Be in the Moment, express yourself
Singapore based AC Ryan's Moment is the world's first compact karaoke sound
bar that comes with a built-in mixer, complete with
a wireless microphone and subwoofer for your entertainment needs.
This high-fidelity and extremely versatile sound bar replicates characteristic elements such as reverb to smooth over uneven voice tones. It also syncs with mobile devices running apps such as Smule, Youtube and Spotify to offer a much wider song choice than most conventional karaoke machines.
Slim and only 16-in long, Moment packs a walloping 120 watts of power and is designed to fit under most desktop monitors, making it also perfect for gamers. Its
wireless subwoofer and DTS TruSurround technologies provides heart-pumping bass to enhance the total gaming experience. It ensure that audio cues are placed more accurately  so that gamers can see, hear and feel the enemy approaching. Easy to set up, Moment's wireless sub-woofer and microphone automatically pairs up once in range. No technician required.
AC Ryan is offering visitors to The PC Show a promo price of $388 for the Moment. The first 50 customers will get a second microphone for free. Exclusive to The PC Show is a special bundle with its VEOLO 4K UHD media player at the offer price $568.
AC Ryan Asia Pacific Pte Ltd (Booth 5008)
The future of home entertainment
Creative's X-Fi Sonic Carrier is a

brand new concept in advanced audio and video delivery for high- end home entertainment.
Bringing together all the advanced technologies and convenience, this technology powerhouse hosts, bridges and enhances a multitude  of state-of-the-art entertainment platforms. The X-Fi Sonic Carrier is a   17-driver   system   in   a   11.2.4 speaker configuration and comprises a single main unit and a powerful 600W subwoofer.
X-Fi Sonic Carrier incorporates Dolby® Atmos™ surround processing to bring powerful 3D audio that flows around and above you as well as Creative's EAX 15.2 Dimensional Audio to extract, enhance and upscale natural, enveloping sound from legacy material. This is unique as other speaker systems supporting surround use multiple speakers to achieve this effect. Powered by eight processors with a total of 18 cores, it plays local (such as content from a memory card), online video content of up to 4K 60fps and 15.2 channels of high resolution audio
The system comes with three distinct wireless technologies that support multi-room Wi-Fi, Bluetooth and a zero-latency speaker-to-speaker link of up to four subwoofer units. It is also future proof as the intelligence and features of the system can be further upgraded in the future. X-Fi Sonic Carrier is not only a masterpiece in function but also in form with a sleek well-crafted body that matches the impressive technologies inside.
Creative has a dedicated theatrette at its booth for visitors to view the demo.
Creative Labs Pte Ltd (Booths 5002 &5003)
High capacity storage with wireless freedom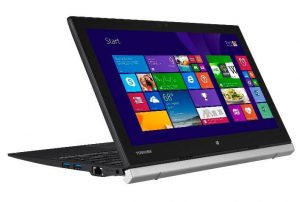 Now you can watch your favourite movies wirelessly on the large screen with the Toshiba Canvio® Aerocast™ Wireless Portable Hard Drive. Combining the benefits of high-capacity external storage with ultimate wireless freedom, this innovative device is the world's first hard drive that is compatible with Google Chromecast (sold separately).
It allows users to stream videos to a HDTV via Chromecast, save digital content from mobile devices such as smartphones and tablets as well as archive photos from cameras with its built-in SD card slot. With integrated wireless capabilities, Canvio® Aerocast™ addresses users' changing storage needs by empowering users to share and stream their personal digital content the way they want to, wirelessly.
Toshiba is also showcasing 3TB models of its popular Canvio® Ready and Canvio Connect II portable hard drives. Breaking new ground with a world's first, this single piece newly developed 2.5-in CanvioConnect II3TB is perfect for heavy data users like photographers and graphic designers who need a no-frills storage solution to back up their work, while the Canvio Connect II 3TBhard drivecomes with remote access capabilities, cloud backup and the ability to share and stream content.
Aside from the Canvio®, Toshiba is rolling out a full range of business notebook PCs which are designed and developed for enterprise use. This includes the Portégé Z20t, a 12.5-in, 2- in-1 detachable ultrabook with reversible dock. This comes fully loaded with a variety of productivity and security features, plus the powerful new 6th generation Intel® Core™ M processors.
Toshiba is offering visitors special prices and giveaways for its products.
Toshiba Singapore Pte. Ltd (Booth 6028)
E-scooters: Personal, lightweight and compact
The MYWAY/Inokim Light is one of the newest electric scooters to

hit the increasingly popular personal electric mobility market.
Award-winning Israeli industrial designer Nimrod Sapir created the Inokim to provide the perfect 'last mile' solution for personal light transportation over short distances.
The compact Inokim Light is more energy efficient and the only one which can be picked up and carried around. It weighs about 12.5/13kg and folds easily with just one swift "click". Its light weight belies its ability to transport a user weighing up to a maximum of 100kg. Charging is easy as it fits into most electric sockets and takes between two and four hours to be fully charged.
Local company Passion Gadgets is offering the Inokim Light at a discounted price of $978 at The PC Show. It is also offering the Passion10 electric scooter (Speedway) at the discounted price of $759 and Passion E2 (ETWOW S2/E-twow Gen 2) Eco/Master/Booster at $799.
iPassion Group Pte. Ltd. (Booth 5054)
Let the games begin
Gamers, brace yourself for some non-stop action at The PC Show's first GG Gaming Zone. GamesProSg which manages the zone is turning up the volume with a wide range of fun activities and attractive prizes, including the chance to face-off with pro-gamer   "XIAN" at the Street Fighter V Challenge on Friday, 3 June, from 6pm – 8 pm.
Gamers can experience the latest Overwatch game from Blizzard and EA Sports' FIFA 16 as well as get their hands on some star buys from top brands in gaming such as Acer Predator, Alienware, Aorus, Asus Republic of Gamers, BenQ Zowie, Dell, Gigabyte, Kingston HyperX, Logitech, Plantronics Gamecom, MSI, Razer, Samsung and Steelseries.
Also watch out for hourly specials with exclusive show offers and limited quantity products for sale. Also expect newly launched products such as Asus Rog G502 & GT51, Gigabyte Aero 14, Aorus X7 DT, Razer Blade Stealth, Hyperx Revolver and Zowie gaming mouse, as well as the latest in gaming gear and accessories, laptops and desktops.
GamesProSg Pte Ltd (GG Gaming Zone)
Around the world for free
Visitors to The PC Show will be among the first to view several GPS

products by Maka GPS Technologies which are making their
debut.  One of these is the Marbella Pilot S. It features  a super bright 5-in LCD touch screen display with day and night views for high visibility, along with a powerful 800MHz processor so that you can arrive at your destination faster.
Marbella Pilot S also provides Bluetooth connectivity to facilitate communication with family and friends and streaming of music between mobile devices. Its audio-video input function allows direct input of Reverse and Car Forward Camera (DVR) while its FM transmitter helpsdrivers to avoid any late turning, allowing them to enjoy localised voice guidance or music through the car's speakers. Just for The PC Show, the first 50 customers who  purchase the Marbella Pilot S each day will receive a free new Marbella VR3 HD 720P  Driving Roadcorder.
Joining the Marbella Pilot S is the Marbella LX5, a 2CH Dashcam. Maka GPS is offering Marbella LX5 at the promotional launch price of $259 (usual price is $329). Limited to the first 50 customers per day is Maka GPS' exclusive bundle which comes with free 32GB Class 10 MicroSD card, Bluetooth speaker, MaxPower 2200mAh Power Bank, smartphone holder, in- car splitter and HDMI cable. All Marbella users are entitled to free detailed routable navigation maps in over 70 countries around the world for their travelling needs.
Also making its debut at The PC Show is the Curve™ Xtreme 200 ultra-HD designed 4K action camera, part of a series of new action cameras for serious videographers. Features include slow motion recording, time lapse mode, loop recording, self-timer photo  mode, battery saver mode, adjustable exposure and white balance settings.
Curve™ Xtreme 200 comes with a specially designed RF 2.4 GHz remote wrist band to allow you to command the camera in case you are not connected to your smartphone. The RF 2.4GHz remote control lets you control your camera, snap a photo or switch off your camera wirelessly, even if you are not within a Wi-Fi environment. Curve™ Xtreme 200 is being offered at the special price of $179 (usual priceis $299). Also limited to 50 customers per day is its exclusive bundling package comprising free 32GB Class 10 MicroSD card, travel back pack and Xtreme 200 original battery.
Maka GPS Technologies Pte Ltd (Booth 5045)
Making creative expression a breeze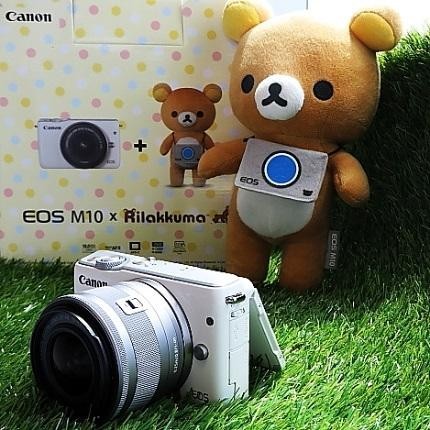 The EOS M10, Cannon's newest addition to the EOS M series of mirrorless interchangeable-lens cameras, weighs about 300g and is the lightest in the series. Despite being light and compact, this highly portable point-and-shoot camera still manages to take high quality images, with a large APS-C sensor and fast Hybrid CMOS AF II autofocus system to ensure that you never miss out on a good photo opportunity.
The EOS M10 is paired with the new compact EF-M15- 45mm f/3.5—6.3 IS STM lens for high quality image in every shot. Equipped with a tilt-type LCD screen, the camera has an intuitive user interface that enables selfies to be taken from varied angles. When the touchscreen is extended to 180 degrees, it activates the self-portrait mode to enable adjustments to parametres for taking the best selfies – brightness, smooth skin effect, background defocus, flash and self-timer.
Users can also have fun with EOS M10's Creative Assisting feature which comprises six sliders such as blur/sharpen (apperture), darker/brighter (exposure), cool/warm (white balance) to enable even newbies creative control of their pictures and the fun of experimenting. They can easily make adjustments and see the effects of these settings on their images.
The EOS M10's Wi-Fi connectivity, together with its ability to deliver superior DSLR quality photos and videos, also make it easy for sharing on various social media platforms.
For The PC Show, Canon is offering a promotion price for its special edition EOS M10 camera, bundled with a limited edition 24-cm Rilakkuma plush toy in a special gift pack.
Canon Singapore Pte Ltd (Booth 6007)
Ultra Slim, Ultra Stylish Storage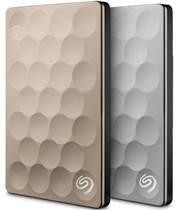 Building on Seagate's rich history of award-winning innovations, the Seagate® Backup Plus Ultra Slim is the world's thinnest 2TB mobile hard drive. At just 9.6mm, the Backup Plus Ultra Slim employs Seagate's latest 2.5-in HDD technology, making it more than 50 percent thinner than other 2TB drives on the market.
The external drive comes equipped with Lyve software, which helps users protect precious photos and videos and automatically organises them into a single unified library, accessible from any
mobile device or computer. It also includes Seagate's® Dashboard software, which offers users one-click on-demand or customised, scheduled backups. Users can also enjoy 200GB of free Microsoft OneDrive cloud storage for two years, allowing for easy sharing and accessibility. This sleek new product is available in gorgeous golden or platinum metal finish, designed to complement the looks of stylish computers, tablets and phones.
Seagate Singapore International Headquarters Pte Ltd (Booth 6009)